An affectionate and uplifting documentary featuring opportunity shop volunteers Lil and Mavis. After forty years of service in their local charity shop, the volunteers now watch as it struggles to survive. For over fifty years the Community Chest Op Shop has supported many local groups, but South Melbourne is changing. South Melbourne is the place to be and property prices are soaring. The value of the Op Shop premises has skyrocketed over the last few years.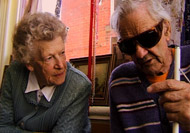 When the South Melbourne council is merged into the City of Port Phillip, the importance of the op shop to the community as a meeting and trading place, has come under threat. The new council is considering selling the shop premises.
Government properties fall under the auctioneers hammer despite outcry from the community. As fears grow for the future of the op shop, Rotary lends a hand. The shop is given a facelift and a new management structure to raise its profile and increase its profit margin.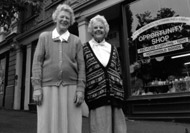 Amidst the turmoil of change, Lil and Mavis continue to serve the needy, lonely and isolated. Always ready with a cup of tea and kind and friendly advice, the op shop and its volunteers serve as a constant in a changing world.
Producer/Directors:
Stewart Carter & Cath South

Director of Photography: Stewart Carter

Sound Recordist:
Cath South

Narration:
Rod Quantock
AWARDS
ATOM Award Best Human Story Documentary 21st ATOM awards.

Winner Highly Commended Award at the 2005 Flickerfest International Short Film Festival

IF Audience Choice award at the 20th St Kilda Film Festival
REVIEWS
DISTRIBUTOR SALES: