YAMAJI MAN is an intimate portrait of a proud and powerful man; a musical virtuoso who survived against the odds. Mark Atkins was born to a Yamaji woman from Western Australia and an Irish Catholic father. Mark grew up in two worlds, never truly at home in either.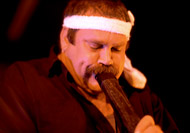 Mark Atkins is an inspirational didjeridu player and we join him on tour in New York, where he is performing and working with Philip Glass. Mark's background as a rock and roll drummer gives him an acute rhythmic sense that allows him to play across a wide variety of styles. Whether playing a duet with the grand concert organ at the Lincoln Center in New York, joining the Scottish acid-folk band Shooglenifty to play a pumped up Celtic number or simply playing solo to a hushed crowd, Mark has a gift for mesmerising audiences.
Despite this success and international acclaim, Mark feels the acute need for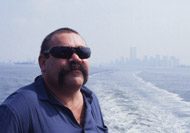 reconnection with his mother's land, Yamaji country. An invitation to play as special guest at the Yamaji Festival in Geraldton takes Mark on a prodigal journey back home. This trip also takes him back in his memory to a moment in his past when his innocence was lost and he began a long, angry journey. A journey that has brought Mark and his extraordinary talent to the world.
Producers:
Cath South &
Stewart Carter

Associate Producers: Davide Michielin &
Rick Randall

Director:
Rick Randall

Cinematography:
Davide Michielin

Editor:
Davide Michielin

Narration:
David Ngoombujarra.

Featuring the music of: Mark Atkins, Philip Glass and Shooglenifty.
LINKS
Shooglenifty

Marguritte Pepper Agent

Mark's Myspace

Blackarm Band

Philip Glass Website

Philip Glass

Distributor/ Sales
AWARDS :

2003 ATOM Awards
"Best documentary", Nominee

2003 Australian Screen Sound Guild Awards
"Best achievement in sound in a documentary"
Nominee
DISTRIBUTOR SALES: